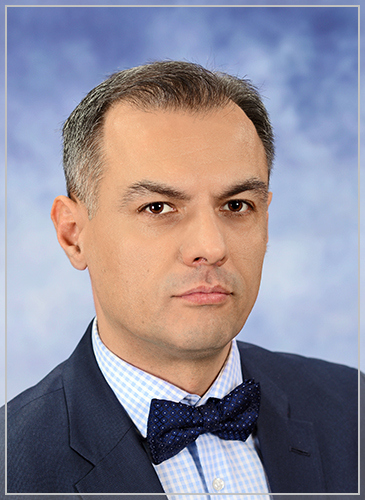 (02) 3 116 520, loc. 224

monday, 16:00–17:00 wednesday, 16:00–17:00

boban@fzf.ukim.edu.mk
Institute of History
Dr. Boban Petrovski
Full professor
П(9.88), received his master's degree (2001) and his doctorate (2006) at the Faculty of Philosophy at the University "St. Cyril and Methodius "in Skopje. In the academic year 1996/97 he enrolled and took a group of courses at the Institute for Classical Studies at the Faculty of Philosophy. In March 1998 he was employed at the Faculty of Philosophy in Skopje as a junior assistant at the Institute of History. He was subsequently elected assistant professor (2007), associate professor (2011) and full professor (2016) at the Institute of History at the Faculty of Philosophy in Skopje.
n the period 2009-2013 he was the head of the Institute of History. In the period 2009-2013 he was a member of the University Council at UKIM. He is the founder of the international magazine "Macedonian Historical Review – Macedonian Historical Review" published by the Faculty of Philosophy-Skopje and in the period 2010-2013 he was its editor-in-chief on two occasions. He was one of the most persistent initiators for the establishment of the Committee for Byzantology and Medievalism of the Republic of Macedonia. He is a current member of the editorial board with a mandate for 2017-2021 of the specialized media magazine "Imago Temporis Medium Aevum" from Spain, which is indexed in the prestigious "Web of Science / Thomson Reuters Database".
He has attended hundreds of domestic and international seminars, conferences, symposia, congresses. Studied at universities and research centers in Budapest, Sofia, Belgrade, Vienna. He is the author of several books and over 50 research studies and analyzes, some in journals indexed in the prestigious Scopus and Thomson-Reuters lists, and some of them have been published in Hungary, Bulgaria, Serbia, Spain, Croatia, Turkey, Russia, Austria, Albania, Romania. He has been quoted in more than a hundred domestic and international papers, and his articles have thousands of views on specialized academic networks.
He wrote screenplays, was a consultant and participant in medieval historical documentaries in the country and in Serbia. He has appeared with scientific and professional views on national television and radio shows in the country, Serbia and Bulgaria. He is an expert editor of several international medieval monographs. It is actively involved in the protection of Apis mellifera macedonica.
Knowledge of languages: English, French, Russian, Serbian, Bulgarian. Ancient languages: ancient Greek, Latin, ancient Slavic.
Research interests: medieval national and European history; auxiliary historical sciences; heraldry and insignia.
Prof. Dr. Boban Petrovski is engaged in lectures and seminars of the courses:
In the first cycle of studies:
The second cycle of studies:
1

[I105Z/18] Political history of Europe

2

[I225I/18] European diplomacy

3

[I14-I/18] History of the Medieval Church
The third cycle of studies:
1

[I6] Migrations in the Middle Ages

2

[I7] Christianity and the non-canonical teachings of the Middle Ages

3

[IUA20] Medieval states and churches
---
Bibliography (selection last ten years)
Monographs, books, university textbooks and manuals:
Петровски Б., Средновековни населби и патишта во Полог – пишани извори, Скопје 2015.
Петровски Б., Цар Самуил и битката на Беласица во 1014 година, текст Б. Петровски, едиција Македонски искушанија, Кн. 20, Министерство за култура на Република Македонија, Скопје 2014.
Петровски Б., Македонија во балканските воено-политички премрежија во XIII век, текст Б. Петровски, едиција Македонски искушанија, поглавје во книгата Македонија до XIX век, Кн. 5, Том IV, Министерство за култура на Република Македонија, Скопје 2015 (стр. 901-918).
Петровски Б., Македонија во византиско-српските превласти од крајот на XIII до средината на XIV век, текст Б. Петровски, едиција Македонски искушанија, поглавје во книгата Македонија до XIX век, Кн. 5, Том IV, Министерство за култура на Република Македонија, Скопје 2015 (стр. 919-939).
Петровски Б., Македонија во времето на Волкашин и Углеша, текст Б. Петровски, едиција Македонски искушанија, поглавје во книгата Македонија до XIX век, Кн. 5, Том IV, Министерство за култура на Република Македонија, Скопје 2015 (стр. 941-957).
Петровски Б., Кралот Марко и браќата Дејанови, текст Б. Петровски, едиција Македонски искушанија, поглавје во книгата Македонија до XIX век, Кн. 5, Том IV, Министерство за култура на Република Македонија, Скопје 2015 (стр. 959-977).
Petrovski B., "Ustanovljivanje sjeverne granice Makedonije: (ne)navremeno rješavanje i primeri iz prošlosti"– дел од монографија, сочинета врз Zbornik radova s Megjunarodnog znanstvenog skupa Pravne i povijesne odrednice granica Srednje i Jugoistocne Europe, Osiek 21-22 listopad 2010, Osiek 2011 (115-123).
Петровски Б., Историја на балканските земји во XIV-XV век, Скопје 2010.
Петровски Б., Помошни историски науки, Скопје 2010.
Петровски Б., Хералдика и инсигнии, Скопје 2009.
Аџиевски К.-Петровски Б., Историја на Европа во раниот среден век, Скопје 2009.
Scientific papers:
Б. Петровски, "Светиклиментовата словенска епископија vs. т.н. ʽПреславска цивилизација'", Милениумското зрачење на Св.Климент Охридски, 1.100-годишнина од упокјувањето на св. Климент Охридски, Меѓународен научен собир, Скопје МАНУ 28 – 29.10.2016, Скопје 2017, 201-211.
Б. Петровски, "Круната на крал Марко", меѓународен научен собир "Српска краљевства у средњем веку", одржан воКраљево (Србија), 15 – 17 септември 2017 г., Краљево 2017, 309-340.
Б. Петровски, "Свт. Климент Охридский, хан/князь Борис-Михаил и князь/царь Симеон: исторические аспекты" (Свети Климент Охридски, кан/кнeз Борис-Михаил и кнез/цар Симеон: историски аспекти), Славяне 5/2, Москва 2016, 10-53.
B.Petrovski, "Constantine Tikh Asen and Polog", во: Великите Асеневци – сборник с доклади от конференция посветена на 830 години от въстанието на братята Петър и Асен, началото на Второто българско царство и обвявяването на Търново за столица на България и 780 години от легитимното възобновяване на Българската патриаршия, Велико Търново 2016, 234-241.
Б. Петровски, "Почетоците на исламската цивилизација во Штип: паѓањето на градот под османлиска власт", Прилози од четвртиот меѓународен конгрес Исламска цивилизација на Балканот, Скопје, Македонија, 13-17 октомври 2010, Istanbul 2015, 43-55.
Petrovski B., "Central-southern Europe under the Restored Byzantine Administration after the fall of Samuel State", во V.Gjuzelev – G.Nikolov (eds.), South-eastern Europe in the second half of 10th – the beginning of 11th centuries: History and Culture, International Conference, 6 – 8 October 2014, Sofia 2015, 266-276.
Petrovski, B., "Intertwined Legal System: Church Authorities versus Local Feudal Landlords (in Central-southern Europe)", Imago Temporis Medium Aevum 8, Lleida 2014, 195-212
Petrovski, B., "Ottoman conquests of parts of Central-southern Europe in the late 14th century: the ambiguity of the sources", Hikmet 22/23, (May 2014/1), 58-73.
Petrovski, B., "Ottoman Military Campaign in 1385: itinerary and goals", во S.Mišić (ed.), Authority and power – nobility of Moravian Serbia from 1365 to 1402. Thematic Collection of Papers from the International conference held in Kruševac, Veliki Šiljegovac and Varvarin, September 20-22, 2013, Kruševac 2014, 287-303.
Petrovski B., "Fond 'Filozofski fakultet' u DARM-u – najznačajniji arhivski izvor o karijeri Josipa Matasovića u Skoplju", во S.Leček (red.) Josip Matasović i paradigma kulturne povijesti, Zbornik radova znanstvenog skupa odrzanog u Slavonskom Brodu 23.-24. studenoga 2012, Slavonski Brod – Zagreb 2013, 215-230.
Петровски Б., "Хералдиката и хералдизацијата. Хералдиката во Македонија", Предавања на XLV меѓународен семинар за македонски јазик, литература и култура, Охрид 22 јуни – 5 јули 2012, Скопје 2013, 167-183.
Petrovski B., "Local roads in Medieval Polog: written sources", Folia Archaeologica Balkanica, Skopje 2012, 463-469.
Петровски Б., "Кореспонденцијата на Теофилакт Охридски: Полог во писмата L8 и L13а", Годишен зборник на Филозофски факултет, книга 64, Скопје 2011, 225-242.
Petrovski B., "Thephylact of Ohrid: Polog reported for the First Time in the Sources", Macedonian Historical Review Vol. 1, Скопје 2010.
Петровски Б., "Српско-византиски односи во последната декада на XI век: Волкановото навлегување во Полог", Годишен зборник на Филозофски факултет, книга 63, Скопје 2010.
Петровски Б., "Учебниците по историја-Критички приод на учебник по историја за 6 одделение". Современата настава по историја – Зборник на трудови, Скопје 2010.
Петровски Б., "Вистинската перцепција за Македонија кај Ал-Идризи (случајот со Булугу, Маласува, Загурија)", во Македонија и соседите – Меѓународна научна конференција одржана по повод јубилејот 60 години Институт за Историја, Скопје 2010.
Петровски Б., "Прашањето за постоење на средновековен град Полог", Balcanoslavica 34-36, Прилеп 2009.
Петровски Б., "Доцноантички / рановизантиски населби во Полог (6. век)", Македонско наследство XII 34-35, Скопје 2009.
Петровски Б., "Локалната власт во средновековната жупа Полог: претставници и нивни ингеренции", Годишен зборник на Филозофски факултет, книга 62, Скопје 2009.
Петровски Б., "Границите на доцноантичките провинции како детерминанти за културната историја (случајот со Полог)", во Антиката и европската култура – Прилози од научниот собир одржан по повод јубилејот 60 години Институт за класични студии, Скопје 2009.
Петровски Б., – автор на 73 одредници во Македонска Енциклопедија, МАНУ, Скопје 2009.