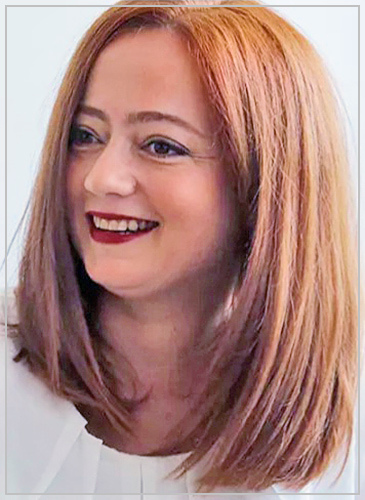 (070) 280 278

tuesday, 09:00–11:00 friday, 09:00–11:00

rina@fzf.ukim.edu.mk

rinakirkova@hotmail.com
Institute for Security, Defence and Peace
Dr. Rina Kirkova Taneska
Full professor
Rina Kirkova was born in Skopje where she completed primary and secondary education. In 2000 she graduated from the Faculty of Law in Skopje. The same year she enrolled in postgraduate political studies for Southeast Europe at the National Kapodistrian University in Athens, which she successfully completed with a master's thesis entitled: "The role of the European Union in the process of democratization of the Republic of Macedonia". Since April 2002 she has been working as an assistant at the Institute for Defense and Peace Studies at the Faculty of Philosophy in Skopje, with an engagement for conducting seminars for the courses: defense law and political system. From the academic year 2004/05, with the introduction of the European credit transfer system at the Faculty of Philosophy, and also at the Institute for Defense and Peace Studies, her engagement is increasing and expanding in the direction of performing seminars in the new scientific disciplines promoted with the new study program. Kirkova conducted seminars, consultations and other activities for the courses: political system, international relations, European political institutions, international organizations, international security, international law of armed conflict and law and peace in cooperation and under the supervision of prof. Dr. Biljana Vankovska. In June 2004 she successfully completed her postgraduate studies in International Law and Politics at the Faculty of Law in Skopje with the defense of a master's thesis entitled: Legal and political directions for the development of the status of Kosovo and the impact on the security of the Republic of Macedonia, obtaining a LLM degree.
In October 2005, Dr. Kirkova submitted her doctoral dissertation on "Redefining Transatlantic Relations within the North Atlantic Alliance" at the Faculty of Law in Skopje. Four years later, in November 2009, she successfully defended her doctoral dissertation, earning the scientific title of Doctor of International Law and International Relations. In April 2010 at the Faculty of Philosophy at the University "St. Cyril and Methodius" University in Skopje she was elected as assistant professor in the following scientific fields: international public law, international relations and history of diplomacy and political system. Since January 2015 she has been elected associate professor at the Faculty of Philosophy in the same scientific fields, and since October 2019 she has been elected as full professor.
In her many years of research experience she has worked on numerous projects with the scientific research institution Euro-Balkan from Skopje, on conferences and seminars organized by the Institute for Security, Defense and Peace, as well as on other scientific research projects.
She has attended courses and seminars and conducted study visits at the universities in Greece, England, Slovakia, Sweden and Ireland. She is the head of the second cycle postgraduate studies in International Relations – Conflict Resolution, Diplomacy and Global Governance. With a mandate period 2020-2023, she is a senator from the Faculty of Philosophy at the Senate of UKIM. She fluently speaks English.
Research interests: transatlantic relations, collective security systems, systems of international relations, international interventionism.
Prof. Dr. Rina Kirkova Taneska  is engaged in lectures and seminars of the courses:
In the first cycle of studies:
The second cycle of studies:
1

[IOC 1013] Theories of International Relations

2

[IOC 2213] Analysis of External Policy
---
Bibliography

Monographs:
International relations and conflict resolution, UNESCO Chair in Intercultural education and research, Faculty of philosophy, Skopje, 2016 ISBN 978-608-238-097-1 (co-author)
Реформи во одбраната, Министерство за одбрана, Скопје 2015, ISBN 978-9989-2851-5-8 (коавтор)
Каква иднина има НАТО, Филозофски факултет, 2010, Скопје
Статусот на Косово меѓу минатото и иднината, Македонска ризница, Куманово, 2004
Scientific Papers:
"The concepts of hybrid treats", International Journal, Scientific Papers, VOL 28/6, Institute of knowledge management, Skopje, December 2018, ISSN: 1857-923X
"Military Responses to the Global Migrant Crisis", Security Dialogues, Vol 9. No.2, Faculty of Philosophy, Skopje, 2018, ISSN: 1857-7172
"The Study of Things Military in the Republic of Macedonia (1991–2015): Flying in Place", The Journal of Slavic Military Studies, Vol. 30 No.3, Routledge Taylor and Francis group, 25 Jul 2017, (382-398) ISSN: 1351-8046
"NATO approach to the process of cooperation and partnership: evolution and key objectives", Contemporary Macedonian defence, Vol 17. No.32, Ministry of Defence of the Republic of Macedonia, Skopje, June 2017, (9-19) ISSN: 1409-8199
"Slovenian contribution to NATO- Led operations", Contemporary Macedonian defence, Vol 16. No.30, Ministry of Defence of the Republic of Macedonia, Skopje, June 2016, (53-63) ISSN: 1409-8199
"European reform package on data protection – legal framework and expectations", Contemporary Macedonian defence, Vol 16. No.31, Ministry of Defence of the Republic of Macedonia, Skopje, December 2016, (79-91) ISSN: 1409-8199
"The Islamic state as a global challenge to the International peace and Security", International scientific conference "Researching security: Approaches, concepts and Policies", 2-3 June 2015, Vol. IV, Skopje (276-285) ISBN 978-608-4532-76-7
"The Second Global Bipolarity or Bi-multipolarity", Security Dialogues, Vol 6. No.2-1, Faculty of Philosophy, Skopje, 2015, (351-375) ISSN: 1857-7172
"The Islamic schism and its influence on international security", International yearbook, Faculty of security, 2014, Skopje (44-52) ISSN: 1857-6508
The Interest of the States for Membership in International Organizations – Case of Macedonian Interest for Membership in NATO – paper present on 5th annual conference of The International Society of Military Sciences (12-14 November Cobenhagen)
The Success of Democratization in Post Arab Spring Societies – paper presented at 8th International Academic Conference (IISES, Naples, Italy, September 2013)
Two years after Arab spring – on long road to democracy -, Security in the post-conflict Balkans, Vol. I International Scientific conference, Faculty of security, Skopje, 2013
Homegrown terrorism – new challenge for the security sector of the Republic of Macedonia – Security Sector Reforms in the Republic of Macedonia and Their Impact on Crime Curbing, International Scientific conference, European University , Skopje, 2012 —
Легитимноста на употребата на сила во случајот Либија, Безбедносни дијалози, број 4, Филозофки факултет, Скопје, 2012
Democratization as a mechanism in prevention of asymmetrical security threats – Security in the post-conflict Balkans, Vol. I International Scientific conference, Faculty of security, Skopje, 2011
The Republic of Macedonia and the European Union – Scientific conference, Fakultet za pravne i poslovne studije, Novi Sad, Serbia, 2010