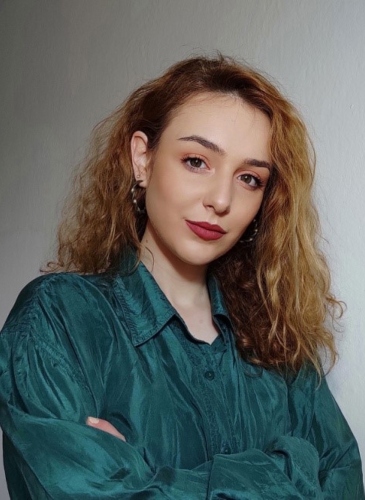 Institute of Pedagogy
Angela Ikonomoska
Demonstrator – Second cycle student, Pedagogical Sciences
Angela Ikonomoska was born in 1998 in Prilep, Macedonia. She completed her primary and secondary school education in her hometown. In 2016 she enrolled at the Institute of Pedagogy at the Faculty of Philosophy. She graduated in 2020 and in the same year enrolled in postgraduate studies in Pedagogical Sciences. From 2020, until today she is engaged as a demonstrator at the Institute of Pedagogy. She has participated in numerous seminars, trainings and workshops. Until 2016 she was an active member of the Youth Council – Prilep. Takes part in the "Macedonian Model of the United Nations" (MMUN), in 2014 as a conference delegate on behalf of Syria, and in 2016 as a team leader, representative on behalf of Germany. Participated in youth exchanges such as:
– "EU Spring School 2014", organized by C: E: T platform, Belgrade-Serbia (2014);
– Second International Summer Camp, organized by Pestalozzi Children's Foundation, Trogen-Switzerland (2014);
– Youth Exchange supported by Erasmus+ – Stop! Eco Time, Gánt-Hungary, organized by Szabad Tér Egyesület (2021).
In 2021 she was a project assistant at the Institute for European Educational, Socio-Cultural and Economic Policies EUROPE FOR YOU Skopje – "Improving the skills for dealing with violence at school through interactive models". In the same year she became a trained educator for conducting peer education at HERA – Association for Health Education and Research and a volunteer in the Missionaries of Charity (Sisters of Mother Teresa), for professional assistance as a pedagogue, in individual and group work with children. Participated with a scientific paper at the second scientific student conference MEET at the Faculty of Philosophy and Faculty of Philology "Blaze Koneski", in October 2021. She has also written a scientific paper for the international scientific journal of the Institute of Pedagogy at the Faculty of Philosophy in Skopje: International Journal for Education, Research and Training (IJERT). Actively writes articles related to the upbringing and education of children on Internet portals and in the student magazine of the Faculty of Philosophy – "Internal passenger".